In June of 1976, while the nation was celebrating its bicentennial, my son graduated from the United States Naval Academy. He reported to his first ship in December of that year and went to sea. In 1977, I was privileged to sail with him on a cruise to the central Pacific as a guest aboard his destroyer for a month. This was quite a thrill for me as I had not been at sea aboard a warship since my own experiences as a radioman and gunner in torpedo planes during World War II. His ship, the U.S.S. John Paul Jones (DDG-32), was the flag ship for DESRON 23 (Destroyer Squadron 23). This same squadron had become quite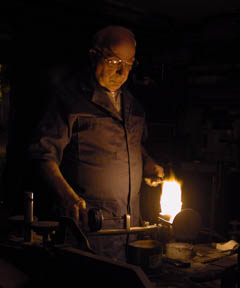 famous during World War II under the daring command of a man named Captain Arleigh Burke. In the years after the war, Admiral Burke eventually became the first Chief of Naval Operations. As the flag ship, the present squadron Commodore, Captain Stu Landersman, was embarked aboard the Jones. During my cruise with the ship, I came to know the Commodore very well. After much additional training, my son qualified as a Surface Warfare officer in April of 1978, just prior to the start of a 10 month deployment to the western Pacific. The Commodore invited me to the ceremony to see my son receive his Surface Warfare insignia. Since I had been a goldsmith for longer than I cared to remember, I told him that, rather than pinning on one of the standard brass insignia, I would like to make the insignia for my son out of gold. The Commodore was pleased and kept both my invitation and the gold insignia a secret.. He also had one other surprise waiting for all of us. On the day of the ceremony, it was not Commodore Landersman who presented my son with his insignia, but his surprise guest of honor, now long retired but still very feisty, Admiral Arleigh Burke. The Admiral pinned my son's insignia on his uniform and he wore it proudly until he retired 20 years later. However, all through his career in the Navy, people would stop and ask what was different about his Surface Warfare pin. He would tell his story and I would get a call to make a special insignia for someone else. And so it began, and we have been making insignia and insignia jewelry ever since.

From the deepest depths of the world's oceans to the orbiting Space Shuttle, our solid gold and silver insignia have been worn by members of our armed forces. Rank and warfare specialty insignia are symbols that represent a tremendous amount of hard work and a dedication to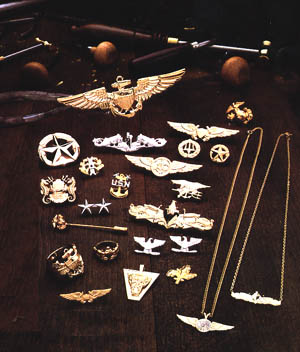 excellence. They also represent achievement, responsibility, and pride of the position. And since that pride is shared by family and loved ones, we make a line of jewelry incorporating rank and warfare specialty insignia into creative and wearable forms.
Each insignia is precision cast in solid 14k gold (or sterling silver) and hand finished. Painstaking attention is given to every detail and the highest quality is absolutely maintained. The heft and weight of our insignia are additional marks of their quality and value. For example, a set of full size naval aviator wings contains over one third of an ounce of 14k gold.
Our master goldsmiths can create any officer or enlisted standard uniform insignia for Army, Air Force, Navy, Marine Corps, or Coast Guard. Please keep in mind that the insignia shown on this website are only a few examples of those which we produce. Our specialty is creating any custom design you may desire, including embellishment with precious stones. Simply e-mail, write, FAX, or call us collect for price quotes and information.
Ideal for gifts, graduations, promotions, commissionings, or retirements, there is no finer gift for those in the military service. In recognition of what it takes to earn these symbols of rank and specialty, we are dedicated to producing the finest military insignia available in the world!